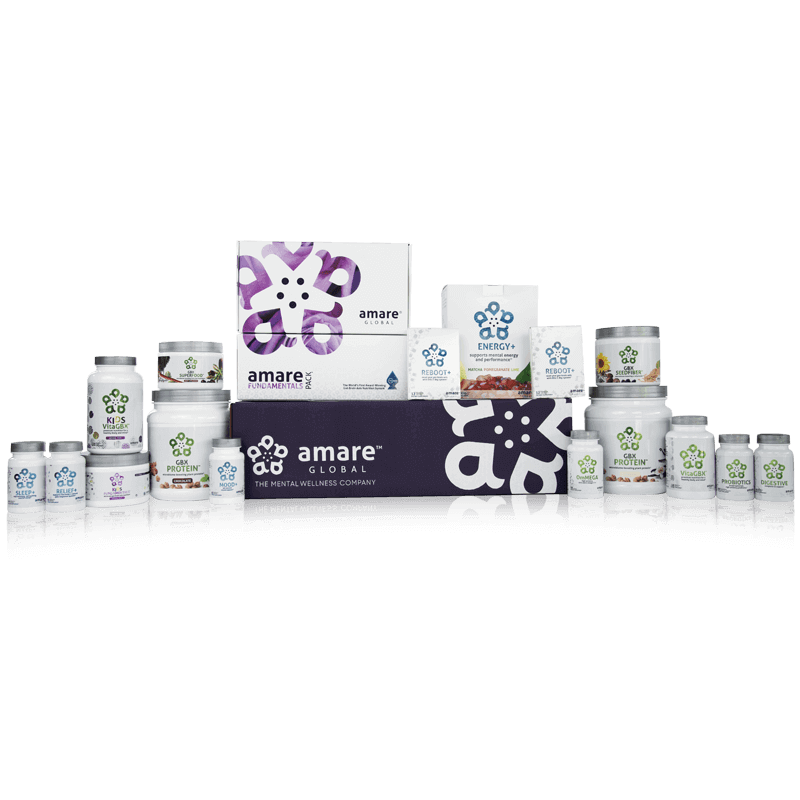 Retail Price: $1,340.00
Quick start your path to health and success with Amare's Launch Pack.*
Includes: (2) MentaBiotics, (2) MentaFocus, (2) MentaSync, (2) Reboot+, (1) Energy+, (1) Mood+, (1) Sleep+, (1) Relief+, (1) GBX Protein - Vanilla, (1) GBX Protein - Chocolate, (1) GBX SuperFood, (1) GBX SeedFiber, (1) VitaGBX, (1) Probiotics, (1) Digestive, (1) OmMega, (1) Kids FundaMentals and (1) Kids VitaGBX
Start your path to health & success
Boost in cognitive function and clarity*
Connects the gut and brain to enhance the communication between both brains*
Ingredients shown to improve mood and reduce tension in human clinical trials*
Supports the growth and vitality of a range of beneficial gut bacteria*
Improves psychological vigor (physical energy, mental acuity, and emotional well-being)*
Balances body and mind via key nutrients often not consumed in your daily meals*
Promotes healthy cardiovascular, nervous, and immune function*
| | |
| --- | --- |
| * These statements have not been evaluated by the food and drug administration. This product is not intented to diagnose, treat, cure or prevent any disease. | |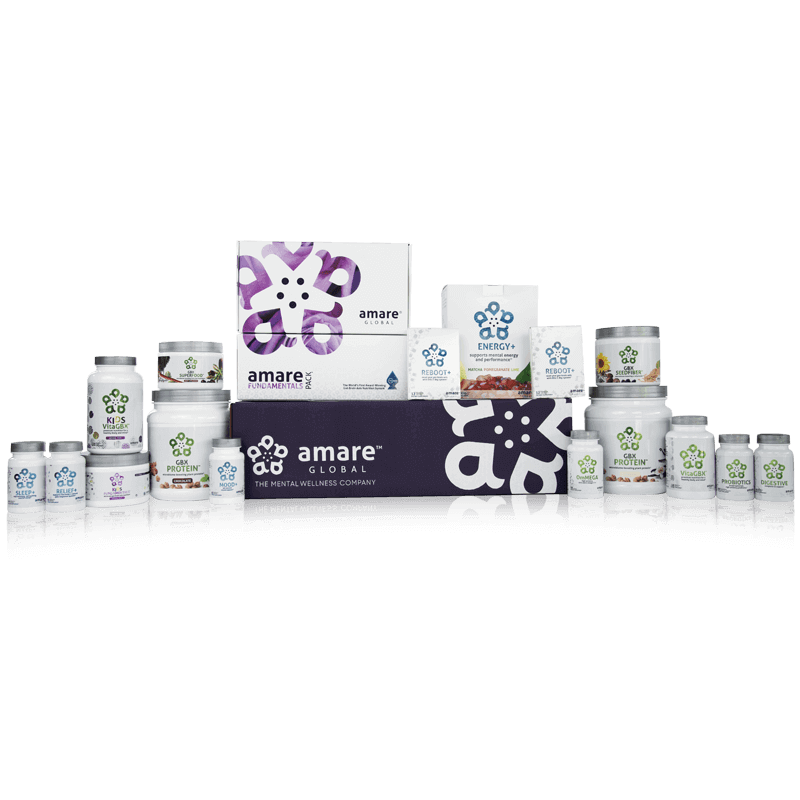 Retail Price: $1,340.00
Quick start your path to health and success with Amare's Launch Pack.*
Includes: (2) MentaBiotics, (2) MentaFocus, (2) MentaSync, (2) Reboot+, (1) Energy+, (1) Mood+, (1) Sleep+, (1) Relief+, (1) GBX Protein - Vanilla, (1) GBX Protein - Chocolate, (1) GBX SuperFood, (1) GBX SeedFiber, (1) VitaGBX, (1) Probiotics, (1) Digestive, (1) OmMega, (1) Kids FundaMentals and (1) Kids VitaGBX
Start your path to health & success
Boost in cognitive function and clarity*
Connects the gut and brain to enhance the communication between both brains*
Ingredients shown to improve mood and reduce tension in human clinical trials*
Supports the growth and vitality of a range of beneficial gut bacteria*
Improves psychological vigor (physical energy, mental acuity, and emotional well-being)*
Balances body and mind via key nutrients often not consumed in your daily meals*
Promotes healthy cardiovascular, nervous, and immune function*
* These statements have not been evaluated by the food and drug administration. This product is not intented to diagnose, treat, cure or prevent any disease.
Interested in Purchasing a Launch Pack?

Become a Wellness Partner.
Launch Packs are only available to Wellness Partners for purchase. If you register or upgrade to a Wellness Partner and purchase a Launch Pack today, you will receive all of Amare's products at an amazing price (

$179.05 product savings

), plus immediately receive a total of

30 FREE Energy+ Samples

(

$159.75 value

) to share with others and help jump-start your road to health and success.

When you purchase a Launch Pack, your

membership fee will be waived

(

$69.95 value

).



Total Launch Pack Savings =

$408.75!!